EATOILS™ BT 200™ is a great product for cleaning and maintaining boats and RV's, including bilge areas and cleaning waterline scum without harming surfaces. One of our regular marine clients raves, "I just wipe BT 200™ on the hull & decks, lay on the dock for a nap for a couple of hours, and when I wake up, my sailboat is all clean and shiny, like new – amazing!"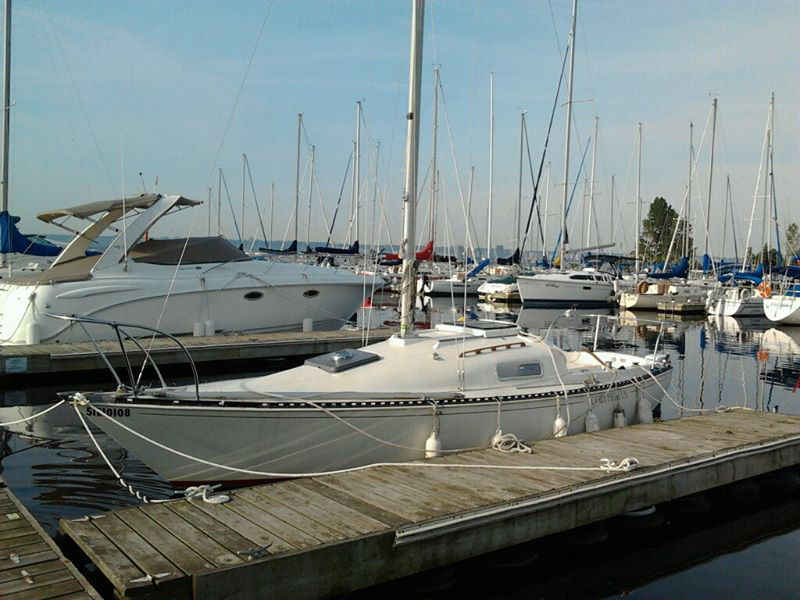 Here's Mike's sailboat at the dock
One of our regular clients, Mike Morris says, "As you can see there is a lot of deck on my boat. The easiest and best way to clean it is to spray BT 200™ on the wet deck and scrub lightly with a brush and then rinse. Amazingly, when we come back in a few days the deck is whiter than when we leave it. In order to maximize this effect sometimes, after we have cleaned it, we wet the deck again and mist BT 200™ onto it as we are leaving for home. When we return the deck is spotless and gleaming white. Because there are no caustic or corrosive substances in BT 200™ it is better for the gelcoat too."
We have many marine clients who regularly add BT 200™ to their bilges to maintain the bilge water free of oils and organic residue. As the boat moves in the water the BT 200™ and water splash around the hull interior and safely clean away any oils, grease, residue, mold, etc. that may have accumulated on the surfaces.
For larger marine craft the uses are even more varied – deck cleaning, interior cleaning, degreasing & maintenance, to name just a few.
EATOILS™ BT 200™ is safe to use, solvent free, environmentally friendly, and highly effective. We have countless clients who have told us how wonderful the product is. Originally designed for safely removing oil stains from concrete and asphalt, BT 200™ is a super cleaning product for a number of diverse applications.
Not only does it deep clean all surfaces, but the product uses continuous, non-stop cleaning action to keep on working long after you're done to remove all traces of smoke and organic residue.
BT 200™ is GREENER-CHOICE™ APPROVED green. Why not order some today? Click Here.